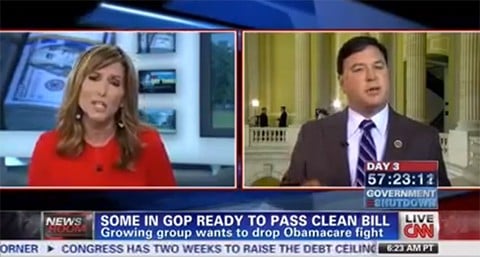 In an artful display of chauvinism and condescension, Republican Representative Todd Rokita (Indiana), while appearing on CNN's show News Room this morning to discuss the government shutdown and the protracted battle over Obamacare, told anchor Carol Costello, "You're beautiful, but you need to be honest."
However, as Jezebel points out, the awkward exchange did not end there, with Rokita making comments such as, "I don't know if you have children yet, I'm sure you don't have grandchildren yet, you look much too young, but we're fighting for them. Carol, do you have any idea how much this law is going to cost?"
Watch a video of the cringe-worthy interview AFTER THE JUMP...