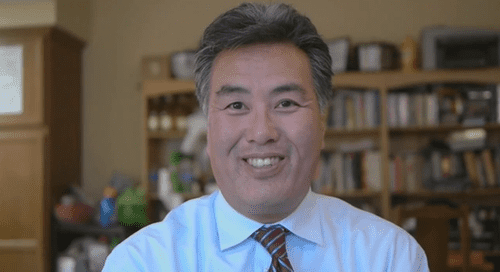 Mark Takano was seen as a bit of a long-shot to win a campaign in California's 43rd congressional district, a somewhat conservative, working-class area in San Bernadino County.  But on his third try--after a major redistricting process that spurred Takano to seek a seat in the new 41st congressional district, a much more Democratic area located north of San Diego along the state's borders with Nevada and Arizona--Takano was elected to represent the district during the 2012 election, making history in the process by becoming the U.S. Congress's first openly gay member of color.
During the course of his race, Takano let two documentary filmmakers into his campaign headquarters--and into the halls of power once he had joined the House of Representatives.  The film that came out of that insider access is "How to Get Elected in America," which looks at the ups and downs of political campaigns and the way that Big Data and the changing demography of the United States are changing politics as we know it.
"How to Get Elected in America," directed by Jamie Ruddy and Rupert Russell, is in post-production.  Check out a fun teaser trailer featuring Rep. Takano below, AFTER THE JUMP...