Yesterday, we reported that Columbia, South Carolina city officials had overridden an order from the police chief instructing two officers to march in the Gay Pride parade.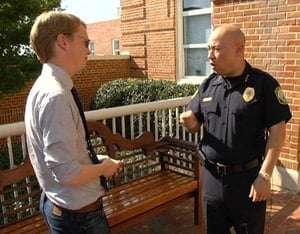 The AP reported:
Santiago had ordered a lieutenant and sergeant to join eight other officers in last Saturday's parade even though they cited religious beliefs in their opposition. On the day of the parade, City Manager Teresa Wilson and her assistant met with Santiago and reached an agreement to make participation in the parade voluntary since there were then enough officers to march.
The police chief is speaking out now, saying that it sets a very bad precedent.
"An officer cannot choose their assignments based on their religious beliefs. When you have a police department that really values strict discipline and adherence and obedience to directives, the Chief of Police is the person they look toward for that direction. Any department that expects to instill public trust, must demonstrate that by being visible to the public."
Richland County Sheriff Leon Lott agrees:
"A chief or sheriff has to be able to make the decisions, a person that works underneath him are not going to respect them if they don't have the ability to make decisions, and I think that's a problem with the Columbia Police Department, not just now but for many many years/"
Watch, AFTER THE JUMP...

wistv.com – Columbia, South Carolina |