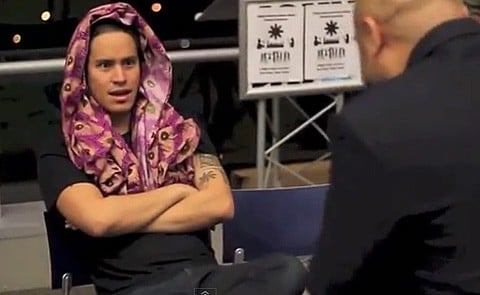 A closing ceremony performance by Broadway actress Liz Casasola at the Filipino American National Historical Society of New York's annual celebration of Filipino-American History Month got personal when Casasola told the crowd she was dedicating the song to Dr. Kevin Nadal, an author and activist.
Nadal pretended to be surprised but was actually in on the performance, and had an even bigger surprise planned for his partner RJ Mendoza.
Check it out, AFTER THE JUMP...
Don't miss our other recent gay wedding and marriage proposal videos...
Gay Marriage Proposal of the Day: Harry and Lance's '99 Red Balloons' flash mob [tlrd]
Gay Marriage Proposal of the Day: IL Rep. Sam Yingling and Lowell Jaffe [tlrd]
Gay Wedding Video of the Day: Donavan and Ricardo [tlrd]
Gay Wedding Video of the Day: Shannon and Sandy [tlrd]
Gay Marriage Proposal of the Day: Jeanne and Alissa[tlrd]