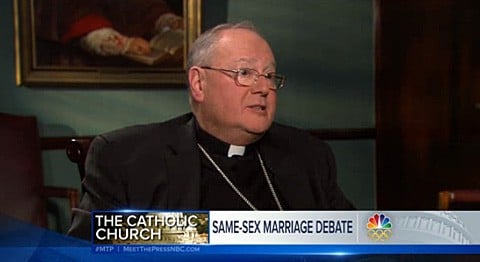 Cardinal Timothy Dolan appeared on Meet the Press on Sunday and was asked by David Gregory about the massive shift in attitude toward same-sex marriage.
Said Dolan: "I think I'd be a Pollyanna to say that there doesn't seem to be kind of a stampede to do this. I regret that. I wish that were not the case."
Gregory then asks him why that is the case:
"I think maybe we've been out-marketed, sometimes. We've been caricatured as being anti-gay. And as much as we'd say, 'Wait a minute, we're pro-marriage, we're pro-traditional marriage, we're not anti-anybody,' I don't know. When you have forces like Hollywood, when you have forces like politicians, when you have forces like some opinion-molders that are behind it, it's a tough battle."
Watch, AFTER THE JUMP...
Visit NBCNews.com for breaking news, world news, and news about the economy