A new protest campaign aimed at highlighting Russia's anti-gay crackdown and Coca-Cola's refusal to denounce these human rights abuses has begun on college campuses across the nation.
Carnegie Mellon University's The Tartan reports:
John Moriarty, a sophomore directing major, along with Jeff Kasinoff, a junior at Wesleyan University, co-founded Anything But Coke, a campaign to boycott Coca-Cola products to convince Coca-Cola to pull its sponsorship of the Sochi Olympics.
"Anything But Coke is an online campaign that I started because of the atrocities happening to gay citizens in Russia," Moriarty said. "Hate groups across the country have spiraled out of control. [...]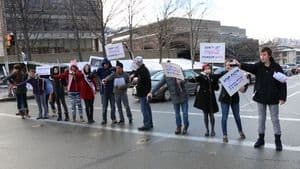 Last Sunday, Moriarty and about twenty others poured out Coca-Cola products — none of which they bought — at the intersection of Morewood and Forbes Avenues. Similar protests are slated in the coming weeks at other universities and high schools across the country. The next protest takes place next week [this Sunday] at Wesleyan University. After that, protests will take place at schools such as Boston University and St. Michael's College in Colchester, Vt.
A dozen other schools have set in motion protests as well. 
Moriarty acknowledged that while Coca-Cola is not the true villain in the room, the company does have the power to make a real impact on the situation in Russia. "We cannot support corporations who put profit before human rights. No matter who is suffering," he wrote in an email to The Tartan.
Watch a PSA for the campaign, AFTER THE JUMP...
Earlier this week, we reported on a similiar initiative taking place at Ireland's Trinity College, with the school's student union pledging to ban Coke products during the upcoming Sochi Games.
[photos via Facebook]