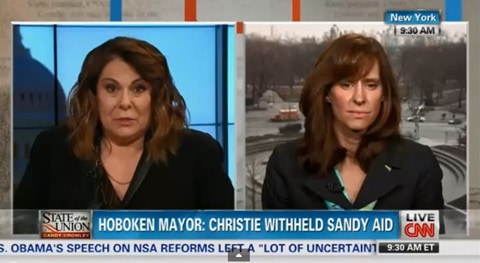 In the latest ugly turn of events for the Chris Christie administration, Hoboken, NJ Mayor Dawn Zimmer said over the weekend that Lt. Gov. Kim Guadagno and Richard Constable, Christie's community affairs commissioner, held relief funds for Hurricane Sandy damage hostage unless Zimmer approved a redevelopment plan being pushed by the governor.
The L.A. Times reports:
Hoboken Mayor Dawn Zimmer said she met with federal prosecutors in Newark for several hours Sunday at their request and turned over a journal and other documents.

"I will provide any requested information and testify under oath about the facts of what happened when the Lieutenant Governor came to Hoboken and told me that Sandy aid would be contingent on moving forward with a private development project," she said in a statement Sunday night.
Zimmer appeared on cable news over the weekend making the claims. Guadagno held a press conference this morning disputing them.
Watch both clips, AFTER THE JUMP...