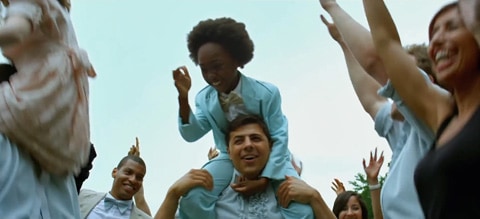 "Don't Ask Me Why," a stunning new video from Brooklyn-based band Great Caesar which was crowdfunded on Kickstarter, celebrates MLK's dream with a look at the battles for equality and civil rights through several interwoven stories.
The band's frontman John-Michael Parker, spoke with The Advocate:
In a world that is bigger and more beautiful and more unjust and more complex than we, as 20-somethings, can even begin to comprehend, there are certainly many systems and areas of inequality and oppression that ought to be addressed and changed. But, as I said above, LGBT inequality is one that, given our generation, the current political climate, and our own experiences, is right there in our faces every day. And regardless of our identity, we felt the desire to do something about.

Having said that, and to address the question itself, we actually don't all identify as straight. A few of us — myself included — have experienced the difficulty and anxiety created by a judgmental culture, specifically in high school, that creates a pressure for young people to identify with and accept, wholesale, all that comes along with labels as oversimplified and polarized as "straight" and "gay." And that sucked.
Watch, AFTER THE JUMP...