"Glacier", a new video from singer-songwriter John Grant's sophomore album Pale Green Ghosts, is a stunning collage of clips and images that create a visual accompaniment to Grant's equally stunning composition.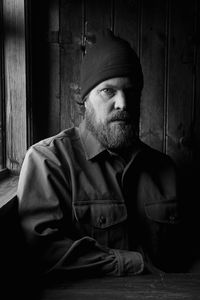 Watch and read the lyrics, AFTER THE JUMP...
HIV Plus wrote of the album and track, in an August interview:
The trees are not the only ghosts in the album, which explores many small moments from the life of John Grant. From alcoholism, to drugs, to HIV, Grant has battled his more than his fair share of demons. Remarkably, Pale Green Ghosts, a haunting record born from Grant's collaboration with Biggi Veira of the Icelandic electronica group GusGus, shares not only the pain of this journey, but also the beauty that blooms unexpectedly like flowers along a highway.

...

Grant uses the image of the glacier, a large mass of ice that carves mountains and rivers in its crawl across a continent, to convey the emotional transformation that occurs during suffering. And transformation doesn't always mean destruction. As the chorus states, the "glacier moving through you" becomes a means of "nourishing the ground" and "creating spectacular landscapes." It's a hopeful song that Grant wished he had heard when he was young.

"I wished I had heard somebody talking about the fact, you know, being gay didn't make me less of a human than other people," Grant said. "It takes a very, very long time to undo a lot of the damage [from this abuse]."
Watch and read the lyrics, AFTER THE JUMP...
Visit Grant's website and store HERE.
(via the advocate)
I suggest you enlarge the screen.
Lyrics:
You just want to live your life
The best way you know how
But they keep on telling you
That you are not allowed
They say you are sick
That you should hang your head in shame
They are pointing fingers
And want you to take the blame
There are days when people are
So nasty and convincing
They say things beyond belief
That sting and leave you wincing
And to boot they say their words
Come straight down from above
And they really seem to think
That what they're doing counts as love
This pain
It is a glacier moving through you
And carving out deep valleys
And creating spectacular landscapes
And nourishing the ground
With precious minerals and other stuff
So, don't you become paralyzed with fear
When things seem particularly rough
Don't you pay them f–kers as they say no never mind
They don't give two sh–s about you. It's the blind leading the blind
What they want is commonly referred to as theocracy
And what that boils down to is referred as hypocrisy
Don't listen to anyone; get answers on your own
Even if it means that sometimes you feel quite alone
No one on this planet can tell you what to believe
People like to talk a lot, and they like to deceive
This pain
It is a glacier moving through you
And carving out deep valleys
And creating spectacular landscapes
And nourishing the ground
With precious minerals and other stuff
So, don't you become paralyzed with fear
When things seem particularly rough
This pain
It is a glacier moving through you
And carving out deep valleys
And creating spectacular landscapes
And nourishing the ground
With precious minerals and other stuff
So, don't you become paralyzed with fear
When things seem particularly rough