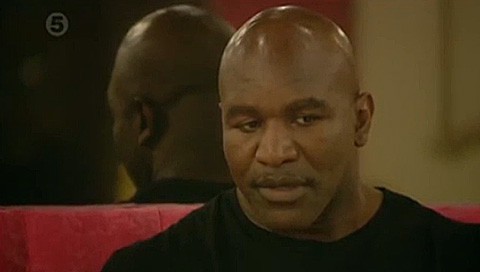 Former heavyweight champion boxer Evander Holyfield is making headlines in Britain for remarks he made on UK Celebrity Big Brother that being gay is being "handicapped" and "is a choice."
He added, "What would be good about it? That ain't normal."
Holyfield was warned by the show's producers in a 'private' talk that his comments were "extremely offensive" and have caused outrage from viewers, including pop star Boy George, who tweeted, "Shame, I had such admiration for Mr Evander Holyfield, he seemed dignified and I was sure he was a cool, smart, giant!", later adding, "I think anyone visiting this country for any reason should be cautioned and forced to swear allegiance to 'Queens & country!!," before adding: "At customs there should be a huge sign! Welcome to Britain, racism, sexism, homophobia and bad hair are not tolerated!"
Watch Holyfield's remarks, AFTER THE JUMP...