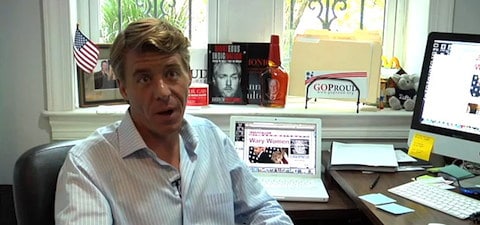 Now that he's abandoned the Republican party, GOProud founder Jimmy LaSalvia is airing all of his grievances with the party that banned his group from CPAC in an interview with Michelangelo Signorile. He doesn't say anything that people on the left haven't been saying for YEARS - the GOP has been hijacked by a loud, powerful minority; they're unwilling to lose a small number of fringe voters to gain "multitudes"; the party has no backbone - but it's cathartic to hear someone who was once one of the party's major cheerleaders finally get a clue. 
LaSalvia actually had some rather scathing remarks about the GOP, such as comparing them to drug addicts who know they have a problem but can't kick it, or saying that they have a cultural disease that can't be fixed. He even recalled a rather telling moment during a conversation with RNC Chairman Reince Priebus when Priebus said, in regards to whatever they were talking about, "I can't do that, I'll get a call from Tony Perkins."
You can listen to LaSalvia lambaste his former party AFTER THE JUMP...