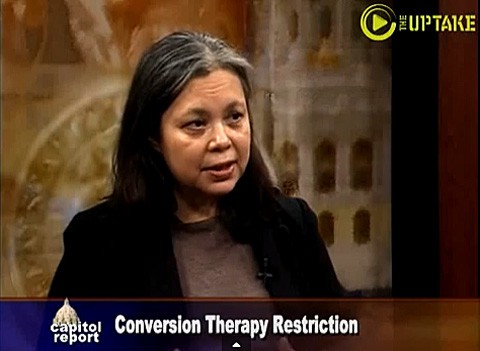 Minnesota Representative Susan Allen (DFL-Minneapolis) has introduced legislation to ban gay conversion therapy for minors, Patch reports:
"If you look at over the period of the last five years, they've sort of changed the way they advertise their services," Allen told Capitol Report host Julie Bartkey. "It's not as obvious anymore that some of the Christian, sort of, based mental health services that offer this type of therapy. It's just sort of given that it's part of their family therapy. So it is prevalent, and it is a nationwide problem."

Minnesota's best known conversion therapy practitioner is Marcus Bachmann, the husband of 6th District Congresswoman Rep. Michele Bachmann. In 2011, Marcus Bachmann acknowledged that therapists in his Christian counseling business will offer conversion therapy to those who want it—although he said the practice, which was renamed Counseling Care in December, is not focused on converting gays to heterosexuality.

Said Allen: "It's a practice that's been discredited. There's 40 years of research."
Watch Allen talk about it on Capitol Report, AFTER THE JUMP...
Similar bills have been introduced in New York and Maryland, and passed in New Jersey and California.