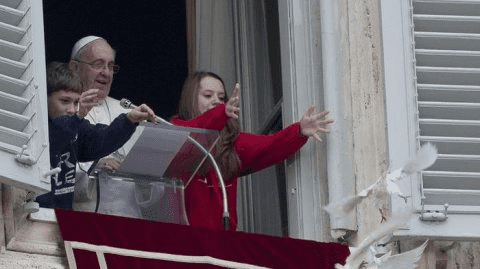 The AP reports on a bad omen out of Vatican City, where two white doves that were released by children standing alongside Pope Francis as a peace gesture were quickly attacked by other birds.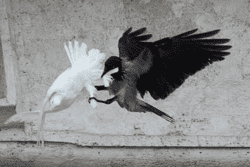 As tens of thousands of people watched in St. Peter's Square on Sunday, a seagull and a large black crow swept down on the doves right after they were set free from an open window of the Apostolic Palace.
One dove lost some feathers as it broke free from the gull. But the crow pecked repeatedly at the other dove.
It was not clear what happened to the doves as they flew off.
New York quips, "Hopefully, they recovered and intend to continue to their avian fight for good. But, if something terrible happens somewhere in the world today, no one can say that there weren't any signs."
Any thoughts on what doom scenario the seagull and crow might symbolize? Bonus points for creativity.
Check out some more shots and footage of the attack, AFTER THE JUMP...