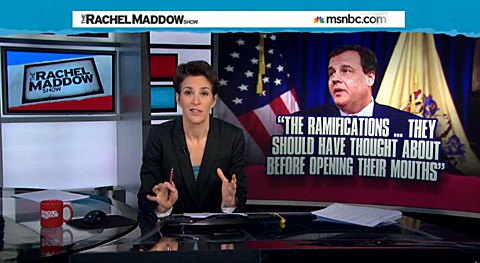 If you haven't been watching Rachel Maddow's coverage of the Christie 'Bridgegate' scandal, she has been owning it for the last month (before it broke wide open), and last night she presented a new theory — that the Fort Lee traffic jam was not retaliation over the lack of endorsement from the mayor.
Mediaite explains: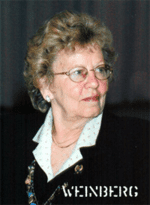 In 2010, Christie took the unprecedented step of refusing to reappoint a New Jersey Supreme Court justice for another term, which set off the New Jersey Democrats, who got back at Christie by shooting down all the other Supreme Court justice nominees he put forward.

So when a Republican member of the New Jersey Supreme Court came up for reappointment last year, NJ Senate Democrats promised to make it a brutal fight, so Christie decided to stop the reappointment. He was furious at Senate Democrats, and held a press conference getting really angry with them.

That press conference, expressing much anger with Senate Democrats, was held on August 12, 2013, a day before the Bridgegate e-mail was sent. And Fort Lee, the town that got backed up, is part of the legislative district represented by Loretta Weinberg. The leader of the Senate Democrats.
Maddow concluded, "Until someone who knows the actual truth about this speaks, it remains a wide-open question."
Weinberg joined Maddow for a second segment.
Watch both of them, AFTER THE JUMP...
Interview with Weinberg: