Starkville, Mississippi passed a resolution on Tuesday stating that "discrimination against a person on the basis of race, color, religion, national origin, sex, gender identity and expression, age, marital status, sexual orientation, familial status, veteran's status, disability, or source of income to be anathema to the public policy of the City."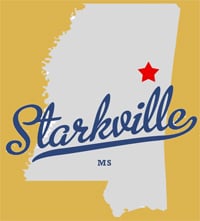 The resolution is not binding, but it is historic.
It's the first time a municipality in Mississippi has ever officially recognized the dignity of its LGBT residents, according to HRC's Chad Griffin.
WLOX reports:
"The city of Starkville, Mississippi is sending a message to its residents that all people – regardless of their sexual orientation or gender identity – are worthy of respect and equality," Griffin said in a statement. "These are fundamental American values, and Mayor Parker Wiseman and the Starkville City Council are setting an inspiring example for their fellow lawmakers in surrounding cities and towns."
Griffin called for a continued push "for ordinances that codify these values into law across the state, the impact of this resolution on LGBT people – particularly youth – will be powerful."
Said Starkville Mayor Parker Wiseman: "The resolution makes it clear that Starkville is a community that works proactively to prevent workplace discrimination before it happens. Dr. Martin Luther King, Jr. once said that 'we must learn to live together as brothers...' I hope the equality resolution lives up to the beliefs of Dr. King and sends a message that Starkville is a city that is intolerant of discrimination against anyone and in any form."
Read the full text of Starkville's resolution, AFTER THE JUMP...
WHEREAS , the City of Starkville believes that diversity is a critical component of a thriving, successful city and that a commitment to diversity strengthens communities, deepens bonds between neighbors, and underlies the welcoming environment that makes Starkville a wonderful place to live and work;
WHEREAS , the City of Starkville believes that diversity supports economic competitiveness and facilitates job growth;
WHEREAS , the City of Starkville believes that discrimination on the basis of race, color, religion, national origin, sex, gender identity and expression, age, marital status, sexual orientation, familial status, veteran's status, disability, and source of income continues to occur in our world today;
WE HEREBY RESOLVE:
RESOLVED : The City of Starkville declares it the public policy of the City to respect the inherent worth of every person, without regard to a person's race, color, religion, national origin, sex, gender identity and expression, age, marital status, sexual orientation, familial status, veteran's status, disability, or source of income; and
RESOLVED : the City of Starkville further resolves that discrimination against a person on the basis of race, color, religion, national origin, sex, gender identity and expression, age, marital status, sexual orientation, familial status, veteran's status, disability, or source of income to be anathema to the public policy of the City