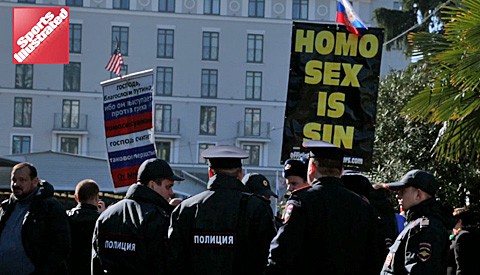 An anti-gay demonstration has been filmed in Sochi by Sports Illustrated:
SI staffers witnessed a small demonstration held outside of the Sochi Train Station on Friday afternoon that seemingly violated the Russian government edict that all protests during the Sochi Games should be held in Khosta, about halfway between central Sochi and the Adler district, the site of Olympic Park. The site of the protest zone is about seven miles from the nearest venue. The train station in Sochi is about 33 km, or roughly 20 miles, northwest of Olympic Park, where the Opening Ceremony will be held Friday.

The demonstrator held up a sign protesting homosexuality. Officials did not appear to be concerned with the content of the sign.
Watch video, AFTER THE JUMP...