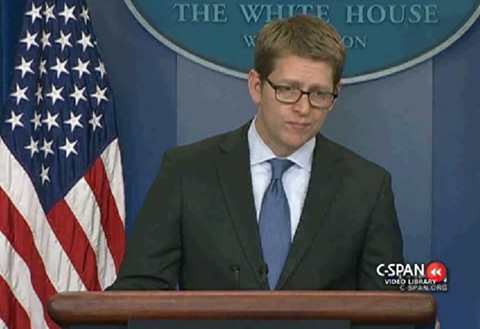 Chris Johnson at the Washington Blade grilled White House Press Secretary Jay Carney yesterday on the Employment Non-Discrimination Act (ENDA) and asked, given House Speaker John Boehner's remarks this week that there is "no way" it's coming up this session, if the President planned to sign an executive order.
Said Carney:
"Well, I would simply say that that is the wrong approach, and the president strongly supports the Employment Non-Discrimination Act. He believes strongly and knows that it's the right thing to do. I would suggest that there have been occasions when leaders in the House have declared something won't happen, and it happens anyway. And we certainly hope that's the case here."
Pressed, Carney would not say whether the President considers protections for LGBT people in the workplace a campaign promise despite Obama's indication that it was in a 2007 questionnaire.
Watch, AFTER THE JUMP...
UPDATE: Carney tweeted a clarification of his "wrong approach" remarks:
"Think you misunderstood. I was referring to the Speaker saying ENDA wouldn't get done this year as '"the wrong approach.'"