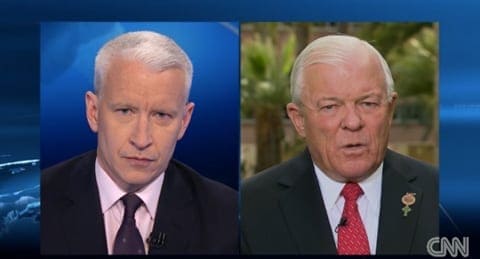 On AC360 tonight, Anderson Cooper confronted Arizona State Senator and gubernatorial candidate Al Melvin about SB 1062, the bill that would allow businesses to discriminate against gays based on religious beliefs. Constitutional law professor Kenji Yoshino joined the debate and spent the segment rebutting Melvin's arguments.
Melvin either didn't appear to know or didn't want to admit that his state can already fire someone for being gay because sexual orientation is not included in the state's anti-discrimination statutes. Melvin also coiuldn't give an incredulous Anderson Cooper a single instance in which someone has been discriminated against based on their religious beliefs.
Said Melvin:
"Not now. No. But how 'bout tomorrow?"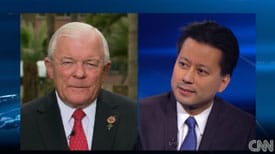 Using a hypothetical situation under the proposed law, Anderson went on to ask the Senator if, because Jesus spoke against divorce, he would support a business person who wanted to discriminate against a divorced woman or an unwed mother.
"I think you're being far-fetched with all due respect sir. As a Christian, as most God-fearing men and women would respect unwed mothers, divorced women, who would discriminate them? I've never heard of discriminating against people like that. I never have..."
Melvin's only response was to return to his wingnut talking points:
"All of the pillars of society are under attack in the United States, including religious freedom...We want to protect traditional marriage. Traditional families..."
Finally, Anderson blasts Melvin when he can't say if he believes it is discrimination if someone is fired for their sexual orientation.
Watch, AFTER THE JUMP...
Part 2: