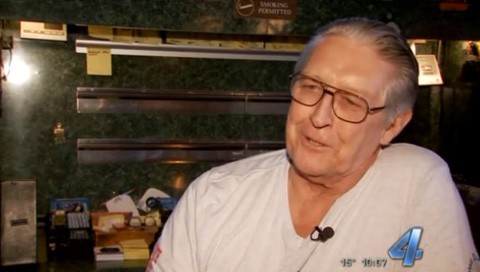 A restaurant owner, in Enid, Oklahoma refuses to serve African-Americans, Hispanics, gays, or people with disabilities, KFOR reports:
Gary James, owner of Gary's Chicaros, said, "I've been in business 44 years, I think I can spot a freak or a faggot." He added, "I don't deal with these people walking down the street with no jobs on welfare."
James said, "If I reached over there and slapped the sh** out of you, you should be offended. But to call someone a 'chink' or someone call me a bigot, that doesn't bother me."
Now, a wave of comments on Facebook claim James refuses to serve African-Americans, Hispanics and people with disabilities, like Matt Gard.
Gard said, "He doesn't like certain people of race, color, ethnicity."
Gard was a regular at Gary's Chicaros restaurant for years. He said he turned a blind eye to the owner's choice of customers, until recently.
Gard said, "Now, he tried to find a weak excuse not to let me in with my wheelchair or the weak excuse of having loud people with me."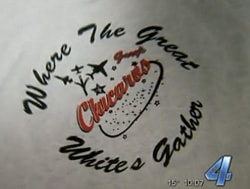 The restaurant even has an offensive T-shirt which James wears proudly.
Even the business' t-shirt is viewed as offensive. The shirt features derogatory slogans against homosexuals, it has the N-word on the front and threatens violence against Muslims, minorities and democrats.
James said he is proud to wear that shirt. He said, "I really don't want gays around. Any man that would compromise his own body would compromise anything."
Watch KFOR's report, AFTER THE JUMP...