James David Manning, birther and chief pastor at the ATLAH World Missionary Church on 123rd Street in New York City's Harlem neighborhood, has unveiled his latest campaign (you may remember another one back in 2010) against gays by making a bizarre claim in a YouTube video and on the marquee of the sign outside his church.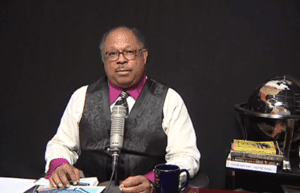 According to Manning, President Obama has unleashed gay demons upon the black male community "hoping to influence as many black males to subscribe to ideals of 'homosexual perverted LGBT' as possible." This has led to the outing of Jason Collins and Michael Sam which in turn is "encouraging more black men to come out of the closet."
The newly out black gay men "are being scooped up by white homos" according to Manning, leaving black women with less of a choice of a man to come and be her husband and father her children.
Manning also offers his praise for the presidents of Uganda and Nigeria, as well as The Gambian. You may recall that Gambian President Yahya Jammeh recently said that gays are 'vermin' and should be exterminated like malaria-laden mosquitos.
Watch Manning's video, AFTER THE JUMP...
The NY Daily News reports:
Carmen Neely, president of Harlem PRIDE, a support group for members of the lesbian and gay communities of Upper Manhattan, called the sign "shameful" and "foolish."
"This demonization is such a stark contrast from the positive progress that has been made between black churches and their same-gender loving congregants," said Neely.