Human Rights Watch has released a disturbing clip detailing many of the violent criminal exploits of Russian anti-gay vigilante groups like 'Occupy Paedophilia', whose leader Maxim Martsinkevich (below, right) was recently arrested after fleeing to Cuba.
They write: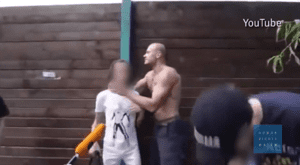 As the host to the 2014 Winter Olympic Games, which begin on February 7, 2014, in Sochi, Russia should act in accordance with the principle of nondiscrimination, a core provision of the Olympic Charter. As a member of the Council of Europe, and party to multiple human rights treaties, it should meet its obligations to provide equal respect and protection for LGBT people.
"The Russian authorities have the power to protect the rights of LGBT people, but instead they are ignoring their responsibility to do so," said Tanya Cooper, Russia researcher at Human Rights Watch. "By turning a blind eye to hateful homophobic rhetoric and violence, Russian authorities are sending a dangerous message as the world is about to arrive on its doorstep for the Olympics that there is nothing wrong with attacks on gay people."
Watch, AFTER THE JUMP...