On Monday, a former high-ranking state treasurer employee filed a federal lawsuit leveling sexual harassment allegations against Dan Rutherford, who is currently involved in a four-way race in the GOP primary for Illinois governor. The Chicago Sun Times reports: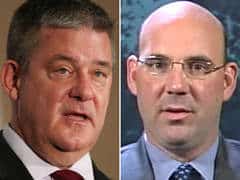 The former employee, Ed Michalowski [far right], accused Rutherford of making unwanted sexual advances against him, starting in 2011 and also alleged that Rutherford's chief of staff did nothing when the incidents were reported.
Michalowski, 43, served as Rutherford's director of community affairs and marketing. He resigned last week, telling the Sun-Times he felt intimidated by a news conference Rutherford held promising to combat the allegations while flanked by former federal agents.
Among Michalowski claims is that in 2011 Rutherford held an overnight office retreat at Rutherford's Chenoa home, entered Michalowski's bedroom and grabbed his genitals.
Following news of the lawsuit, Rutherford held another press conference denying the allegations, which you can watch AFTER THE JUMP…
Rutherford has seen his poll numbers slip since the allegations surfaced.