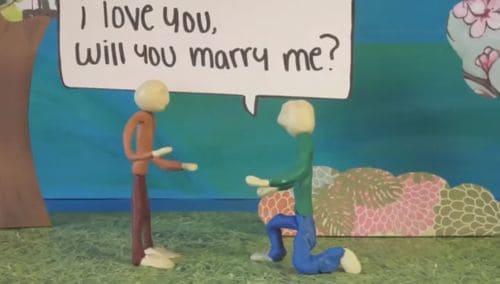 Scarlett Dennis, a 7th grader from Los Angeles, has created an artistic statement in support of same-sex marriage that demands to be seen. HuffPost reported on the young artist, whose minute-long stop-motion animated film, "The Story of Larry and Gerald," is a poignant and emotional call for gay rights. Larry and Gerald refuse to compromise their love, despite the protests they meet along the way, and something tells us that Ms. Dennis will be a similarly staunch advocate and ally for years to come.
The YouTube description (reportedly from Scarlett's teacher) reads:
I teach 7th grade in Los Angeles. We have just finished our semester in Health and it has culminated in Activism Projects in which the students pick a cause they care about that we have covered in class and make a creative project to inspire others to think differently and more progressively about our world. Enjoy!
Way to go, Scarlett!
Check out the awesome video, AFTER THE JUMP...