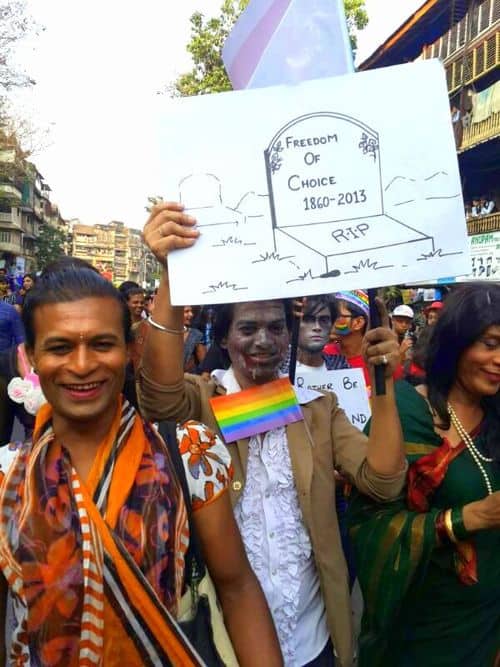 Gaylaxy has a nice selection of photos from Queer Azaadi Mumbai (QAM) 2014 on Saturday, the first LGBT Pride march anywhere in India since the Supreme Court recriminalized homosexuality.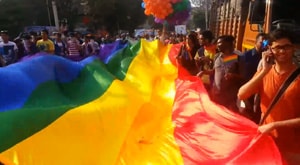 DNA India reported that the event drew people from around the globe:
"Ideally, the march is about taking pride in what you are. But this year's upsurge in numbers is a reflection of the community's anger and hurt over being recriminalised," said one of India's gay rights pioneer Ashok Row Kavi.

"If courts think they can brush us off and treat us like sub-humans they need to see how they have ended up giving the movement a shot in the arm instead. This movement will grow and succeed."

Filmmaker Sridhar Rangayan and Humsafar Trust CEO Vivek Anand echoed this sentiment. "We know we have a long battle ahead. But we will prevail and succeed. In the meantime, we continue to plot our struggle with creative socio-cultural initiatives like films, music, paintings and theatre," said Rangayan, adding, "This will not only help us as a community but also help dispel wrong notions and stereotypes among those outside."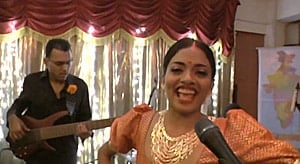 The Times of India reports that a song from the 60's is reemerging in the country as a gay anthem:
In 1966, musician Mina Kava and his band were asked by recording company HMV to compose a song about Bombay. Kava's wife Naju pitched in with the lyrics, and the ditty that emerged was Evening in Gay Maharashtra. Made in an era when 'gay' referred to joy and gaiety, it invited people to visit the state and its "full of life" financial capital...
...Earlier this month, a contemporary adaptation of the song, which replaced certain lyrics with bold, subversive references, made waves online. Shot last year, the video resurfaced following the Supreme Court verdict, which was seen as a denial of human rights by the LGBT community.

Sung by Suman Sridhar, the adaptation moves the song from one extolling the virtues of the state's chapatti and hill stations to one that points to the intolerance towards the gay community.
Watch the video and scenes from Mumbai Pride, AFTER THE JUMP...