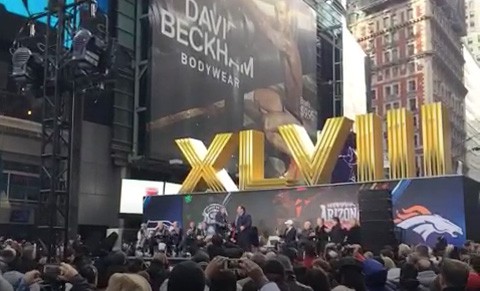 NJ Governor Chris Christie was booed today at a Super Bowl event in Times Square.
Watch, AFTER THE JUMP...
Meanwhile, Christie attacked the New York Times and David Wildstein after an article published yesterday said "evidence exists" that Christie knew of the bridge closings while they were happening.
Christie sent out an email to allies and friends, titled "5 Things You Should Know About The Bombshell That's Not A Bombshell" which BI has published in full.
"A media firestorm was set off by sloppy reporting from the New York Times and their suggestion that there was actually "evidence" when it was a letter alleging that 'evidence exists,'" Christie's office wrote in the email.
The next four points in the email defended Christie and attacked Wildstein. The email dug into Wildstein's background — including a mention of a time when, as a 16-year-old, he sued over a local school board election.
The email also noted that Wildstein has been looking for immunity. His lawyer, Zegas, has said that Wildstein has a "story to tell" if he were granted immunity.