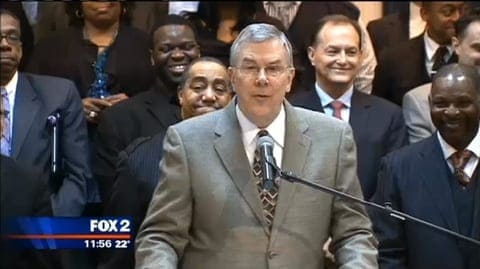 A coalition of approximately 50 Michigan pastors held a press conference on Monday blasting same-sex marriage ahead of today's trial challenging the state's ban on gay marriage and gay adoption, the Detroit Free Press reports:
Quoting from Martin Luther King Jr. and the Bible, the pastors said that gay marriage violates the teachings of Christianity. Swimp quoted from King's famous letter 'Letter from a Birmingham Jail' to say that "we have a moral responsibility to disobey unjust laws" that don't conform the law of God. The majority of pastors at the press conference were African-American.
"It's going to tear the foundation of the family asunder," Pastor Caldwell said of gay marriage. "It's going to have a devastating effect."
"We ... stand by both our Michigan Constitution and our Judeo-Christian values," said Pastor Lennell Caldwell of First Baptist World Changers. "We believe that marriage between one man and one woman creates the best possible environment for the health and wellness of children ... no one is entitled to redefine marriage."
The pastors said their coalition represents Baptist, Church of God in Christ (COGCI), Pentecostal, and Catholic denominations.
Watch a WJBK report on the presser, AFTER THE JUMP...