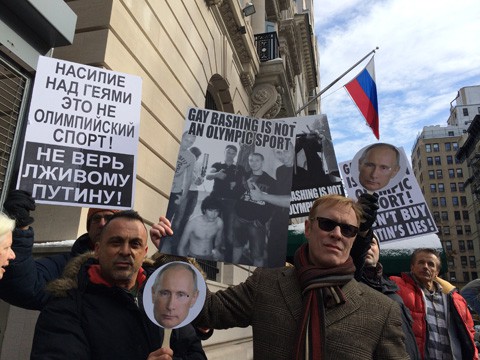 More than 100 members of LGBT activist group Queer Nation demonstrated in front of the Russian consulate in New York City at noon yesterday, including three people wearing Putin masks who dumped fake blood on the Olympic flag to underscore the IOC's complicity with the Russian government.
The group reports, via press release: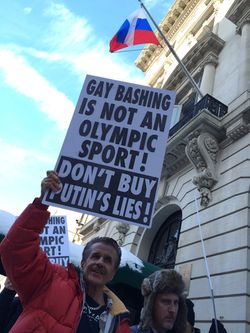 "We've focused on the IOC and how holding the Olympics in Sochi goes against everything in its charter," said Queer Nation member Ken Kidd, referring to past Queer Nation protests. "We've focused on NBC and major Olympic sponsors like Coke and McDonalds, who pay lip service to equality while profiting from inequality and ignoring Putin's human rights atrocities. Now we're once again laying our message right on Putin's doorstep. The whole world is watching -- literally. Putin can't hide his pogrom behind the sports page."

Among the protesters were gay Russians who have fled Russia and are seeking asylum in the U.S., members of RUSA LGBT, an organization of gay and lesbian Russian expatriates, students from Queens College, and members of Judson Memorial Church in Greenwich Village. They chanted "Queer rights are human rights!" and "Gay bashing is not an Olympic sport!"; held "Putin heads" on sticks; and carried anti-Putin signs in both English and Russian.
The protest is the latest in a series of high-profile protests launched by Queer Nation dating to July 2013. They include December 12 actions at two NBC employee Christmas parties and earlier confrontations with Moscow government officials at meetings promoting U.S. investment in Russia. The group has also targeted supporters of Putin performing at the Metropolitan Opera and Carnegie Hall as well as "Russia Day" at the New York Stock Exchange.

Queer Nation has also targeted corporate sponsors of the Olympics, most notably Coca-Cola and McDonalds, through pointed, successful social media campaigns, including appropriating McDonalds' #CheersToSochi Twitter hash tag.

"The Russian government is on notice that the start of the Olympics is not the end of this fight," said Scott Wooledge, another Queer Nation member. "Overturning these laws and ensuring the rights of LGBT Russians is the only way for Putin to begin to repair that damage to his reputation on the world stage the passage of these laws has done."
Watch video of protesters pouring blood on the Olympic flag, AFTER THE JUMP...