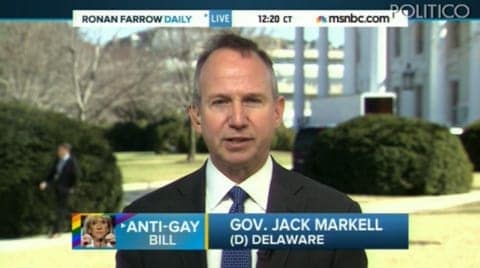 Delaware Governor Jack Markell spoke out about Arizona's anti-gay bill on Monday, saying that the Super Bowl needs to be moved if Brewer signs it:
"If they pass this law and if she signs it, it would seem to me that the NFL may be looking, or should be looking, to move the Super Bowl out of that state. Because, you know, there's so many places around the country that are welcoming to everybody."
The Arizona Super Bowl Host Committee released a statement opposing the legislation:
We share the NFL's core values which embrace tolerance, diversity, inclusiveness and prohibit discrimination. In addition, a key part of the mission for the Arizona Super Bowl Host Committee is to promote the economic vitality of Arizona. On that matter we have heard loud and clear from our various stakeholders that adoption of this legislation would not only run contrary to that goal but deal a significant blow to the state's economic growth potential. We do not support this legislation. Instead, we look forward to continuing to promote the NFL's values while focusing on the economic momentum apparent in Arizona and capturing the positive worldwide attention associated with hosting Super Bowl XLIX.
The Arizona Cardinals are calling for a veto and the NFL says it is monitoring the situation:
"Our policies emphasize tolerance and inclusiveness, and prohibit discrimination based on age, gender, race, religion, sexual orientation, or any other improper standard," NFL spokesman Greg Aiello said in a statement. "We are following the issue in Arizona and will continue to do so should the bill be signed into law, but will decline further comment at this time."
Watch Markell, AFTER THE JUMP...