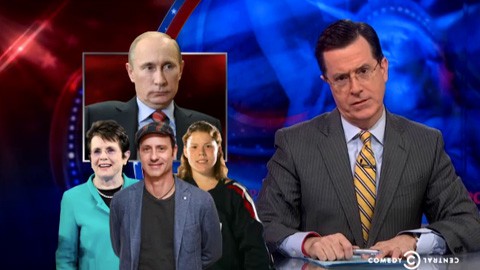 Last night, Stepehen Colbert did a big report on the gay extremist terrorist threat to the Sochi Olympics, and sent correspondent Buddy Cole to interview gay U.S. Ambassador Dan Baer and find out about Russia's anti-gay laws.
In a hilarious interview, Cole grilled Baer on his responsibilities and perks as an ambassador, whether his parents know he's gay, and what exactly is Russia's anti-gay law. Cole also asks whether wearing a rainbow shirt will get him arrested, and how many zippers one could have on an outfit before appearing too gay. And are buttons better than zippers?
Watch, AFTER THE JUMP...