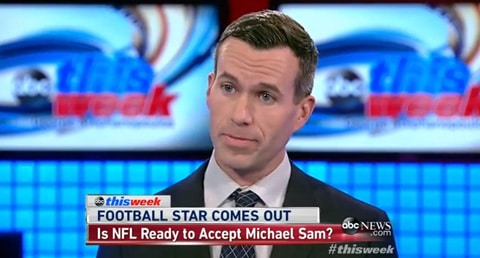 On This Week, George Stephanopoulos asks Outsports.com co-founder Cyd Zeigler, NFL punter Chris Kluwe, and Pete Thamel, the author of the disappointing Sports Illustrated article which featured 8 anonymous NFL execs discussing the NFL's lack of readiness for an openly gay player, what Michael Sam will face in the coming weeks.
And Outsports' Cyd Zeigler expresses his indignation that the media is responsible for fabricating the "struggle" Sam supposedly faces to get into the league.
Watch, AFTER THE JUMP...