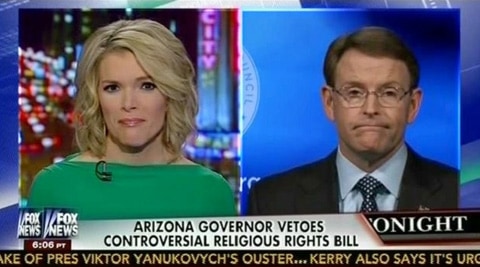 In a particularly offensive, though not entirely surprising segment, Fox News anchor Megyn Kelly asked Family Research Council president Tony Perkins about his thoughts regarding Gov. Jan Brewer's veto of Arizona SB1062, which would have allowed business owners and other individuals to refuse service to gay and lesbian patrons based on religious beliefs. Perkins proceeded to demonize the decision, stating that "this is how fundamental freedoms are trampled."
He also denied the relevance of comparing African-American civil rights struggles of the 1950's and 60's and today's issues, saying that most places in Arizona would still allow racial discrimination. But would that happen? "No, because people aren't going to do that," according to Perkins, who in one fell swoop both confirmed and denied the existence of race-based discrimination while continuing to reinforce his own homophobic view, that gay and lesbian people do deserve to have "that," discrimination, directed towards them.
Media Matters reports:
[Megyn] Kelly's decision to host Perkins to discuss the veto without questioning his rhetoric or providing another guest to counter his views marks an unfortunate reversal from her comments the day before, wherein she acknowledged that Arizona's anti-gay bill was "potentially dangerous." Unfortunately, Perkins' regular status as a Fox guest is in keeping with the network's ongoing attempt to suppress gay rights by suggesting thatthe religious views of business owners should allow them to discriminate against gay customers.
Watch the train wreck of an interview, AFTER THE JUMP...