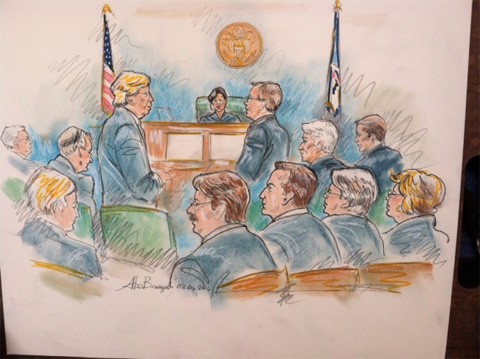 (image via AFER - WAVY/Alba Bragoli)
A federal judge heard arguments in Norfolk on Thursday in one of two challenges to Virginia's ban on gay marriage. The case is Bostic v. Rainey, and the plaintiffs were represented by (Prop 8 lawyers) Ted Olson and David Boies and the American Foundation for Equal Rights.
AFER reports:
District Federal Court Judge Arenda L. Wright Allen could issue a ruling quickly. "You'll be hearing from me soon," she said at the conclusion of the nearly two-hour hearing. While we don't know when—or how—Judge Wright Allen will decide the case, we remain optimistic that our arguments for freedom and equality will once again prevail.
The Washington Post reports:
Virginia for the first time advanced its new legal position that a 2006 referendum approved by voters to define marriage as only between a man and a woman violates the U.S. Constitution. It is the next question for courts to decide as the nation's view of same-sex marriage undergoes a radical transformation: whether states, which traditionally define marriage, may withhold it from same-sex couples.

Virginia Solicitor General Stuart Raphael said new Attorney General Mark R. Herring (D) had made a "courageous" decision to say that the state could not defend the ban. He compared it to previous cases in which the commonwealth has defended segregation, a ban on interracial marriage and keeping women from attending VMI—all decisions overturned by the Supreme Court.

"We are not going to make the mistakes our predecessors made," Raphael told Wright Allen.
Listen to the press call from AFER following the hearing with Boies, Olson, the plaintiffs and Virginia AG Mark Herring, AFTER THE JUMP...