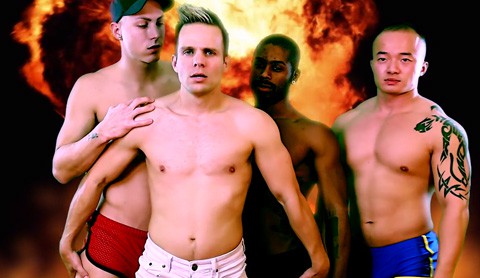 If Justin Jaymes, the blond twink in this photo looks a lot like singer-songwriter Tom Goss, whom you last saw on Towleroad in his music video "Bears", you are not seeing things.
Goss plays an abhorrent music star named Justin Jaymes in Out to Kill, an upcoming murder mystery indie film in which he's the victim, and this music video from the fictional Jaymes about the challenges of being someone as hot as he is hit YouTube today.
Says the press release:
Jaymes, a self-taught "musician," and citizen of clubs around the world, claims that the song is educational. He says, "I wrote this song for all those haterz that think what I do is easy. Listen, you simply don't wake up this fabulous. It's work, day in and day out." As a "hotness expert," Jaymes knows what he is talking about when he says, "the beat is sick. The message owns all the haterz who are always whispering about me at the club. And most of all, it's hot. I mean, probably the hottest thing ever made."
The single and video may be precursors to a complete album, but nothing has been confirmed. Jaymes' busy schedule of clubbing, tanning, and working-out may hinder further productions. "The world should be grateful they even get this," says Jaymes, "Don't push it."
Watch Goss get into abhorrent character in "You Don't Know How Hard",
AFTER THE JUMP...