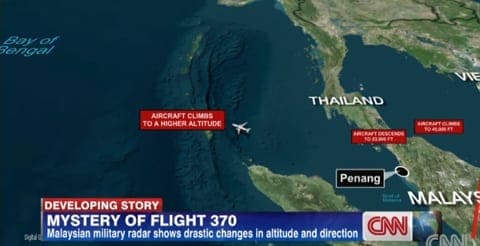 The international investigation into Malaysia 370, the Boeing 777 disappearance that is captivating the world, continues to take new twists every few hours. Now, authorities are saying that the plane flew for as many as seven hours after being diverted.
Malaysia's Prime Minister announced that it has now become a criminal investigation as location data made that theory almost impossible to deny. The NYT:
According to Mr. Najib, a satellite orbiting 22,250 miles (35,800 kilometers) over the middle of the Indian Ocean received a transmission that, based on the angle of transmission from the plane, came from a location somewhere along one of two arcs. One arc runs from the southern border of Kazakhstan in Central Asia to northern Thailand. The other runs from near Jakarta, Indonesia, to the Indian Ocean, roughly 1,000 miles off the west coast of Australia.

"These movements are consistent with deliberate action by someone on the plane," Mr. Najib said. He noted that one communications system had been disabled as the plane flew over the northeast coast of Malaysia. A second system, a transponder aboard the aircraft, abruptly stopped broadcasting its location, altitude, speed and other information a few minutes later, at 1:21 a.m., while the plane was one-third of the way across the Gulf of Thailand from Malaysia to Vietnam.
Watch CNN's report on the newest developments, AFTER THE JUMP...
Any number of places are now in the search area:
The arc passes close to northern Iran, through Afghanistan and northern Pakistan, and through northern India and the Himalayan mountains and Myanmar.

An aircraft flying on that arc would have to pass through air-defense networks in India and Pakistan, whose mutual border is heavily militarized, as well as through Afghanistan, where the United States and other NATO countries have operated air bases for more than a decade.

Air bases near that arc include Bagram Airfield in Afghanistan, where the United States Air Force's 455th Air Expeditionary Wing is based, and a large Indian air base, Hindon Air Force Station.
The Indian Ocean, the third-largest in the world, has an average depth of more than 12,000 feet, or more than two miles.