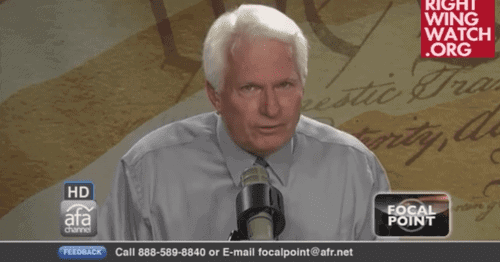 Bill Maher has made a lucrative career out of pointing out the flaws of religious dogma, but last week's episode of Real Time may take the cake for the most epic anti-religious rant he's delivered yet.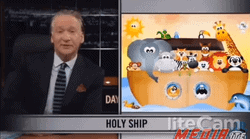 On his "New Rules" segment Friday, Maher called God a "psychotic mass murderer" and declared that the U.S. is a "stupid country" because 60% of Americans believe the Bible's story of Noah and the Ark to be literally true. He went on to criticize conservatives for complaining about restrictions and regulations while voluntarily inventing religious rules. Joked Maher: "Isn't life hard enough without making shit up out of thin air to fuck with yourself?" 
Needless to say, this didn't sit well with American Family Association spokeshater Bryan Fisher, who dedicated a segment of his radio show on Monday defending the story of Noah's Ark and explaining why God hasn't struck down Maher yet. 
Said Fisher:
God has given [Maher] that gift, the gift of free will, the gift of judgment, the gift of discernment, this enormously precious gift of being able to make decisions for our own lives. And so now Bill Maher is using that for profane and blasphemous purposes. There's absolutely only one reason why Bill Maher draws another single breath and that is because God is merciful, God is compassionate…why does God allow Bill Maher to go on these blasphemous rants? Because he is waiting for Bill Maher to come to the place of repentance.
I have a feeling God might be waiting on that for a while...
Watch Fischer's explanation and Maher's rant, AFTER THE JUMP...
[via Right Wing Watch]