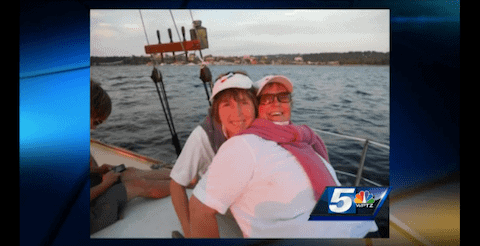 Barbara Ernst and Barbara Supeno have been together for 21 years and have lived at their lakefront property in Addison, Vermont for 10. However, residents of the town have never fully welcomed the Barbaras, many of them instead treating them with outright hostility, including insults, obscene gestures, and even dead animals left on the property. 
In addition, the couple believes that the town leadership tried to push them out via a variety of measures, including a town clerk refusing to file a mandatory application for the handicap ramp Supeno put in for her mother; failing to notify the couple of zoning meetings regarding their property; and a refusal to respond to filed grievances by the couple. It should be noted that the value of their property has more than tripled since they moved in.
To top it all off they've been the victims of anonymous bullies who would circulate false letters claiming the women were scam artists, and homophobic slurs spray painted outside the town offices.
Ernst and Supeno responded to the continued harassment with a lawsuit. In the lawsuit the complaints being named are defamation, false light invasion of privacy, tortious interference with prospective business relations, sexual orientation discrimination, common law retaliation and violations of common benefits clause. The defendant named for the suit is board chair Jeff Kaufmann, who is Addison's zoning and planning administrator and, notably, is a Baptist minister.
Watch WPTZ's news report on the couple, AFTER THE JUMP...