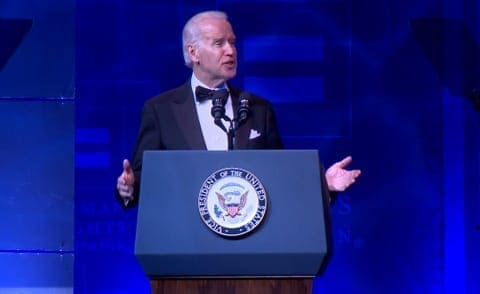 Vice President Joe Biden delivered a powerful speech to approximately 1,000 folks at the Human Rights Campaign Gala in Los Angeles last night focusing on the still-unpassed Employment Non-Discrimination Act and the importance of promoting LGBT rights internationally.
"I travelled to most countries in the world, and I can tell you, they're looking to us as an example, as a champion of LGBT rights everywhere," Biden said during his 30-minute speech.
Noting that being gay is illegal in 80 countries, Biden laid out the challenges faced by LGBT people overseas. In places like in Jamaica, he decried the practice of "corrective rape" for lesbians, and was critical of the anti-gay law in Nigeria that makes entering into same-sex marriage or supporting LGBT rights punishable with time in prison.
The vice president also criticized Russia, which has recently been condemned by the United States by military incursion into Ukraine, over its law banning pro-gay propaganda to minors.
"By the way, as the great Soviet dissident Andrei Sakharov said, 'A country that does not respect the rights of its citizens will not respect the rights of its neighbors,' and we're seeing that today in Ukraine," Biden said.
Buzzfeed adds that Biden also called the anti-gay discrimination in the U.S. "barbaric":
"Hate can never be defended because it's a so-called cultural norm," he said. "I've had it up to here with cultural norms."
He called on Congress to pass the Employment Non-Discrimination Act, or ENDA, which would outlaw discrimination by most private employers against people because of their sexual orientation or gender identity.
Watch, AFTER THE JUMP...
Read Biden's full remarks HERE.