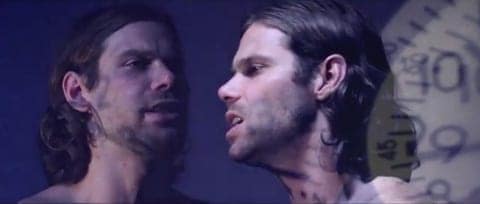 Gay rocker Brett Gleason sends along his new video "Calculated" the lead single from his upcoming debut full length album due out next month.
Writes Gleason: "The video follows me through my day - from my bedroom to the boardroom to the playground as I break free from the compromises that hold me safe to live life as fully and freely as I've always feared..."
Check it out, AFTER THE JUMP...
Gleason recently wrote a piece in the HuffPost in which he says that after giving him some attention for his first few releases, the straight rock world turned away when gay outlets started to take notice.
Writes Gleason, in part:
Because my songs have neither genitals nor desire, no gender is implied and to be honest, though it's illegal to discriminate in hiring, artistic discrimination is just as pervasive, subtler and far more socially permissible.
I'm gay. Just like I'm male or Caucasian. A quick Google search would tell any listener these things. But first I want them to hear the music, to interpret the lyrics through their personal experiences and make the songs their own. This is what I wanted....
...After aligning myself with gay culture, the 'indie' media seemed to lose interest. Blogs stopped responding, reviews came to a halt. My music didn't change but the outlets that shared it did, a few doors creaked open but far more slammed shut. I knew it was a risky venture to be so brazen but didn't expect such a polarized response. It's since become obvious to me why though there are brave, out artists far more are paralyzed by the fear of being 'too gay', too sexual, of crossing a line we've been warned not to straddle. I don't advocate universal objectification but would like to see an atmosphere where gay artists can address the themes of sex and love with as much relevance as any straight voice.