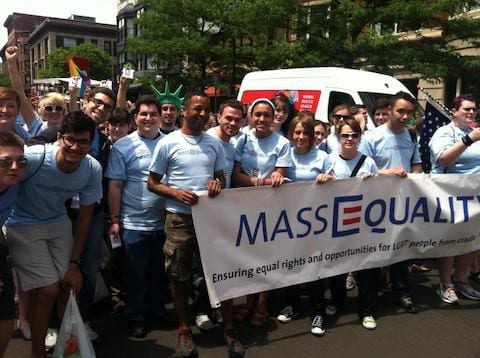 Gay organizations have a troubled history with the annual St. Patrick's Day Parade and are routinely banned from marching in several cities, Boston in particular. This year it appeared that progress, slight as it was, was being made as the gay rights group MassEquality was invited to march, provided none of the members wore t-shirts or held signs that included the word "gay" or referenced their orientation.
That millimeter forward just took a big step back. Parade organizers have now rescinded the invitation after the parade's sponsor, the Allied War Veterans Council, claimed that MassEquality lied on its application and attempted to enter the parade under false pretenses, saying that it wasn't a legitimate veteran's group.
At a closed door City Hall meeting last night it was made clear to us that the LGBT Veterans for Equality do not have 20 United States Veterans who wish to march. Rather, they presented only one supposed Veteran (sic) and a group of others carrying rainbow flags. When asked about a Color Guard, their loan (sic) Veteran replied that he wasn't sure he could supply any more Veterans willing to march.

It is our belief that the application submitted to us by LGBT Veterans for Equality was a ploy by them to enter this parade under false pretenses and is hereby denied. It is our intention to keep this parade a family friendly event. We will not allow any group to damage the Integrity (sic) of the historic event or our reputation as a safe and fun filled day for all.
MassEquality wanted gay veterans to be able to march openly and proudly, and were shocked by the hostile rejection from the parade organizers.
"We know from experience that change comes through conversation and dialogue. We were encouraged to have an historic opportunity to meet face-to-face with Parade organizers to discuss a contingent involving LGBT veterans, and we did so with open hearts and open minds. We regret that the Parade organizers shut down conversation before an agreement could be finalized," MassEquality executive director Kara Coredini said in a press release.
Added Coredini: "We were under the impression that negotiations were positive and ongoing, and we were surprised by the abrupt and hostile tone of the Parade organizers' rejection."
You can see CBS Boston's coverage of the story (autoplay) AFTER THE JUMP...