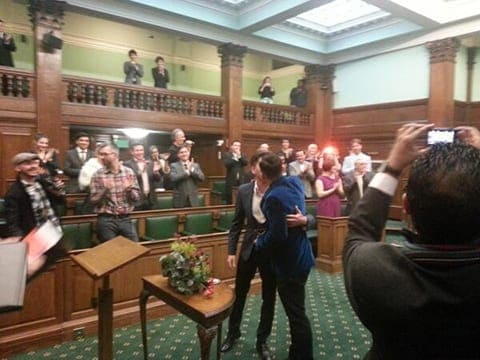 As promised, same-sex marriage became legal a little while ago at midnight in England and Wales. Couples in both realms have already begun to say 'I do' and their friends and loved ones have taken to social media to help document this historic occasion. 
The couple pictured above were toasted on Twitter by Craig Baldwin (@goochus73): "You may now kiss the groom". Gay couple marry in historic moment in Camden Town Hall. #equalmarriage 
Though the identity of the first gay couple married in Britain is not certain at this point, the council of Islington, a district in greater London, had suggested that two of its residents, Peter McGraith and David Cabreza (pictured below), would be the first. Indeed, the happy pair have tied the knot, as Twitter user Andy Hull (@AndyHull79) shared: CONGRATULATIONS, Peter McGraith & David Cabreza, now Husband & Husband! #equalmarriage #makinghistory in @IslingtonBC.
Check out more images -- and a video! -- of McGraith and Cabreza along with those of other happy couples from across the pond, AFTER THE JUMP…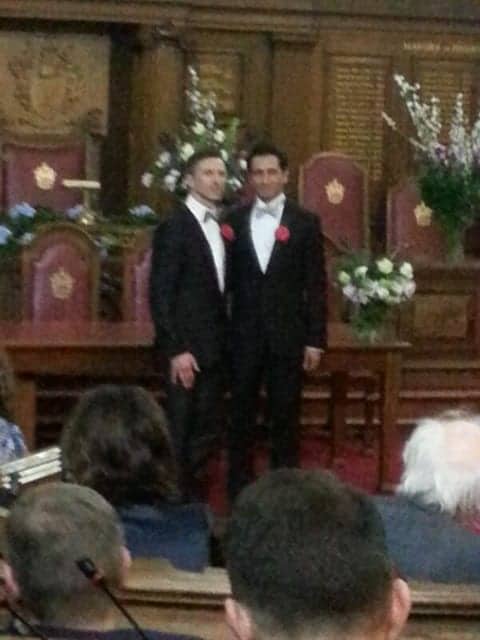 McGraith and Cabreza via the Council of Islington and Twitter, respectively.
Ladies and gentlemen, the first Gay Marriage takes place in UK. Meet the happy couple #EqualMarriage pic.twitter.com/Skeugy5u25 via @ahsstudents

— Tarek Fatah (@TarekFatah) March 28, 2014
Kyle and Richie in Sheffield
Congratulations to Kyle & Richie, beautiful wedding, Sheffield's first #equalmarriage pic.twitter.com/6MsUXY0vvw

— SheffieldCityCouncil (@SheffCouncil) March 29, 2014
The ceremony has begun Kyle and Richie become the first same sex couple to marry in #sheffield #equalmarriage pic.twitter.com/ji1MyPUdOY

— Cllr Neale Gibson (@cllrnealegibson) March 29, 2014
John & Bernardo
It's official the UKs first gay marriage has happened! #1stGayWedding John&Bernardo #equalmarriage @stonewalluk pic.twitter.com/2MeC6XYqLV

— Marc Bates (@marcbatez) March 29, 2014