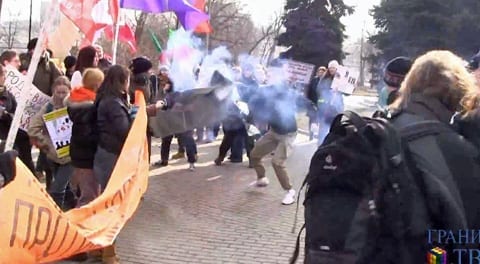 Police in Moscow detained approximately 12 men, including one with a machete hidden under his clothes, after they attacked a group of gay activists taking part in a feminist rights rally on Saturday.
Queer Russia reports:
LGBT activists Igor Iasine, Nikolay Bayev, Evgeniy Pisemsky, several members of the Moscow Rainbow Association and other participants of the sanctioned rally held rainbow flags and placards against homophobia and sexism.
Police detained armed thugs who made several attacks on the rally participants with rainbow flags. Attackers has knifes, a crowbar and a machete, they threw addle eggs at protesters and tried to burn a placard saying "No church, no kitchen, no state!".
The rally was held in Moscow from Samotechnaya Square to Suvorov Square and drew about a hundred participants. The rally was held under slogans for women's rights, anti-discrimination, against domestic violence, for reproductive freedom.

However, shortly after the rally started, the police demanded participants to take the rainbow flags away. But placards with slogans against homophobia were allowed to remain, Grani.ru reports.
Watch video of the attacks, AFTER THE JUMP...