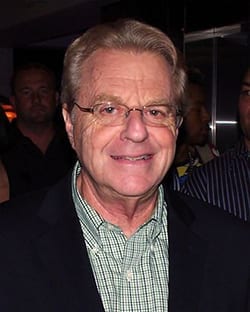 Trashy daytime talk show host Jerry Springer recently announced that he will stop using the derogatory word "tranny" in episode titles of The Jerry Springer Show.
The Advocate reports that past installments of Springer's show have used the word in episodes such as "Mom Don't Ruin My Tranny Wedding," "Tranny Take Downs," "You Got Me a Tranny Stripper!?" "Online Tranny Trap," "My Girlfriend is Leaving Me for a Tranny" and "Tranny Bomb!"
Springer told TMZ:
"The term tranny? I've just been educated. I won't use that term. I mean I honestly had no idea that you're not supposed to use that term so now we'll find another term to use.
"Yeah, but I didn't know that it was offensive to them (the transgender community) and I'm not interested in offending people. So obviously I'll just change the term — there's no argument there."
Springer should also keep in mind though that Gays and Lesbians Allied Against Defamation (GLAAD) consider words like "she-male," "he-she," "it," "shim," and "gender-bender" to be just as defamatory and dehumanizing. Even if he uses the correct word "transgender," his show's depiction of trans people as outrageous spectacles will remain problematic.
In the recent past, celebrities such as Gabourey Sidibe, Lance Bass, Neil Patrick Harris and RuPaul have all been criticized for using the trans-slur.
Watch Springer renounce the word, AFTER THE JUMP...