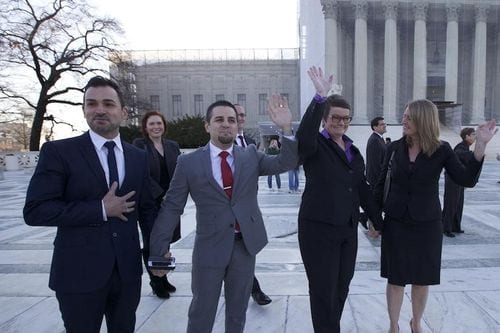 It's been a fantastic ten days, but the 2014 SXSW Festival's panels, films, and music have sadly come to an end. Fortunately, LGBT-related content managed to win top honors at the Interactive Awards Ceremony and Film Festival Audience Awards here in Austin. 
The Human Rights Campaign's red logo, which went viral last March during the Prop 8 and DOMA trial hearings at the Supreme Court, was the big winner of the SXSW Interactive Awards, taking home three awards: Social Media, Digital Campaign of the Year, and Best of Show. These categories were voted on by industry experts and highlight the projects that best push the boundaries of what's possible in digital content and help inspire the next wave of creativity. 
On the film side of things, The Case Against 8, which goes behind the scenes of the high-profile trial that overturned California's Proposition 8, took home an Audience Award in the "Festival Favorites" category. Shot over five years, this extraordinary film chronicles the two gay couples involved, as well as the unlikely alliance of lead attorneys Ted Olson and David Boies, political opponents who last faced off on opposing sides in the landmark Supreme Court case Bush v. Gore. 
You can check out a video of filmmakers Ben Cotner and Ryan White discussing the film at Sundance earlier this year, AFTER THE JUMP…
Catch up on all our coverage of SXSW HERE.