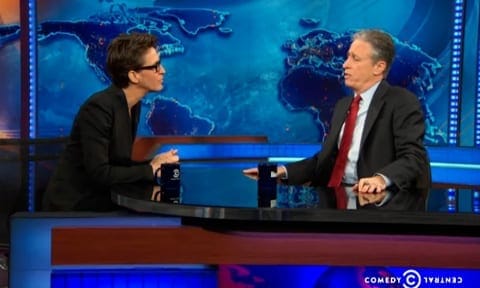 Rachel Maddow has a new MSNBC documentary arriving soon called Why We Did It which dives back into the reasons for the war in Iraq.
Stewart asks Maddow: "Why did you do this to yourself? Why did you delve back into the morass, the abyss that is the war with Iraq?"
Maddow says that 10 years on, there are now new people who are willing to talk:
"I think that there is a desire to hear the truth told. Honestly, there are two million Iraq war veterans in this country and there are four thousand families who lost somebody. And when you think about that, when you look at Wounded Warriors and the people that are carrying this for the rest of their lives...I think even the people who were part of it in some ways want to see those people hear the truth, and it has never been explained."
Watch, AFTER THE JUMP...