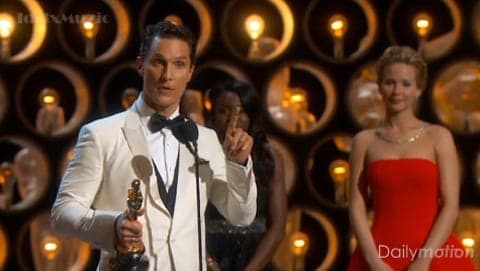 Matthew McConaughey is drawing criticism for his Best Actor acceptance speech for Dallas Buyers Club, in which he played Ron Woodroof, a straight Dallas electrician and real-life AIDS patient who organized a buying club for hard-to-find pharmaceuticals in the mid-80s.
McConaughey's speech, unlike his co-star Jared Leto's, failed to make any mention of people living with HIV/AIDS but thanked God and, himself.
Watch the speech and read a transcript, AFTER THE JUMP...
Writes Daniel D'Addario at Salon:
McConaughey ended his speech with catchphrases from "Dazed and Confused." But he wasn't, strictly speaking, accepting an Oscar for that '90s cult classic; he was accepting an Oscar for a movie about a destructive and awful disease. There are no hard-and-fast rules here, but an actor portraying a character caught up in a historical tragedy ought perhaps to acknowledge the tragedy was real — if only to note that his performance was given additional gravitas by real-life circumstances. In McConaughey's mind, surely, "Dallas Buyers Club" is potent and sad simply because of the quality of his own performance. But then, this is a fellow who thinks his lines from a 20-year-old movie deserve to be iconic; his perspective may be skewed.
Adds David Badash at The New Civil Rights Movement:
McConaughey certainly honored his family, and God, but the manner in which he did ended up feeling like he merely was pushing pseudo-science and patting himself on the back...While I may not be a person of faith, I'd like to believe that Jesus, were he in McConaughey's shoes last night, would have mentioned the "36 million people who have lost the battle to AIDS," and all those who need our help and attention.
Tweeted NYC City Councilman Corey Johnson:
Matthew Mc -no mention of people living with HIV/AIDS? No mention of ACTUP/activism? A nonsensical egotrip. Disappointing to say the least.
There is one place McConaughey's speech is being lauded, however. Conservative blogs and FOX News:
Fox News' online Oscar coverage said McConaughey was "one of the first of the night" to thank God for his win, highlight the praise (and some detraction) he received on social media for doing so. The site did not mention the religious shout-out from 20 Feet From Stardom's Darlene Love, nor the moment that Bette Midler sang the line "Thank God for you" at the end of "Wind Beneath My Wings."

Michelle Malkin's Twitchy was one of the first sites to jump on the Twitter reaction to McConaughey's speech, with some fans questioning the tepid level of applause he received from the audience for doing so.
Conservative commentator Katie Pavlich weighed in on TownHall.com, applauding McConaughey for putting God above his family in the speech and contrasting him with Blue Jasmine's Cate Blanchett, who "thanked pervert Woody Allen for her Oscar win."

Matthew McConaughey – Acceptance Speech… by IdolxMuzic
Here's a transcript of the speech (via vulture):
Thank you thank you thank you to the Academy for this. All 6,000 members. Thank you to the other nominees. All of these performances were impeccable in my opinion, I didn't see a false note anywhere. I want to thank Jean-Marc Vallée, our director. I want to thank Jared Leto, Jennifer Garner, who I worked with daily.
 
There's a few things, about three things to my count, that I need each day. One of them is something to look up to, another is something to look forward to, and another is someone to chase.
 
Now, first off, I want to thank God, because that's who I look up to. He's graced my life with opportunities that I know are not of my hand or any other human hand. He has shown me that it's a scientific fact that gratitude reciprocates. In the words of the late Charlie Laughton, who said,"When you got God, you got a friend. And that friend is you."
 
To my family, that's who and what I look forward to. To my father, I know he's up there right now with a big pot of gumbo. He's got a lemon meringue pie over there. He's probably in his underwear, and he's got a cold can of Miller Lite and he's dancing right now. To you dad, you taught me what it means to be a man. To my mother who's here tonight, who taught me and my two older brothers — demanded that we respect ourselves. And what we in turn learned was then we were better able to respect others. Thank you for that, Mama. To my wife Camila and my kids Levi, Vida, Mr. Stone, the courage and significance you give me every day I go out the door is unparalleled. You are the four people in my life that I want to make the most proud of me. Thank you.
 
And to my hero, that's who I chase. Now, when I was 15 years old, I had a very important person in my life come to me and say, "Who's your hero?" And I said, "I don't know, I've got to think about that. Give me a couple of weeks." I come back two weeks later, this person comes up and says, "Who's your hero?" I said, "I thought about it. It's me in 10 years." So I turned 25. Ten years later, that same person comes to me and says, "So, are you a hero?" And I was like, "Not even close! No, no no!" She said, "Why?" I said, "Because my hero's me at 35."
So you see every day, every week, every month, and every year of my life, my hero's always ten years away. I'm never going to be my hero. I'm not going to attain that. I know I'm not. And that's just fine with me, because that keeps me with somebody to keep on chasing. So, to any of us, whatever those things are, whatever it is we look up to, whatever it is we look forward to, and whoever it is we're chasing. To that I say: Amen. To that I say, All right, all right, all right. To that I say, just keep living, eh? Thank you.