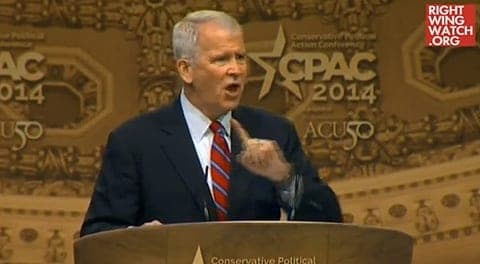 In a speech at CPAC today, Oliver North accused Obama of treating service members like "laboratory rats in some radical social experiment" by repealing 'Don't Ask, Don't Tell' and said conservatives must fight marriage equality like abolitionists fought slavery, Right Wing Watch reports.
Said North.
"Some say that we must ignore social issues, like the definition of marriage and the sanctity of life, religious freedoms. I say those are not social issues. They are deeply moral and spiritual issues and they should be a part of America's elections. In the 1850's, a political party was born on the idea of a great moral issue - human bondage, the abolition of slavery in America. If we as conservatives cease to be a place where people of faith and those who believe in strong moral values can come, we will cease to be a political force in America."
Watch, AFTER THE JUMP...