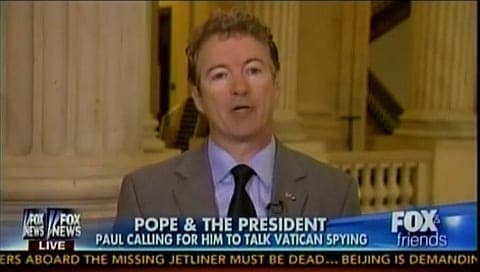 Referring to the Hobby Lobby case before the Supreme Court yesterday, Senator Rand Paul (R-KY) lectured Obama on what he should explain to Pope Francis in a meeting scheduled for Thursday.
"He ought to explain to the pope why he is telling businesses in America they can't remain true to their faith and stay in business." He should also "tell the pope he's not going to spy on him anymore."
Watch, AFTER THE JUMP...
Crooks and Liars notes:
...if it were Rand Paul visiting with the Pope, I'd tell him he should be ready to explain why it is that he opposes extending unemployment insurance while taking food out of the mouths of hungry children.
I think Rand Paul has more to explain than President Obama does.