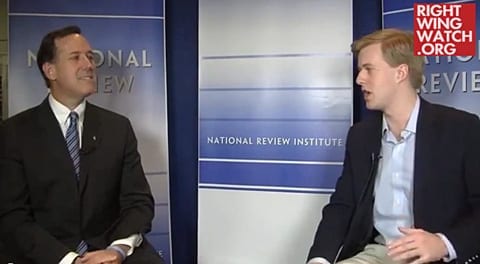 Rick Santorum sat down with the National Review after CPAC a few weeks ago to talk about Arizona's "religious freedom" bill that would have allowed the "sincerely held beliefs" of business owners to legally discriminate against homosexuals. When asked whether he would have signed the bill had Santorum been in Arizona Governor Jan Brewer's place, he emphatically said yes, surprising absolutely no one. Also, somehow Obamacare is the government infringing on people's freedom of religion. Also said during the interview, utterly lacking in self-awareness:
The trunk upon which all other branches of rights flow from is freedom of conscience. If you don't have freedom of conscience, then freedom of speech doesn't mean very much, freedom of assembly doesn't mean anything because you can't speak or do what you believe is right. And what we're seeing is the government increasingly encroaching upon this very sacrosanct area of our Constitution and using all sorts of excuses to suppress people's rights. 
You can watch the interview AFTER THE JUMP...