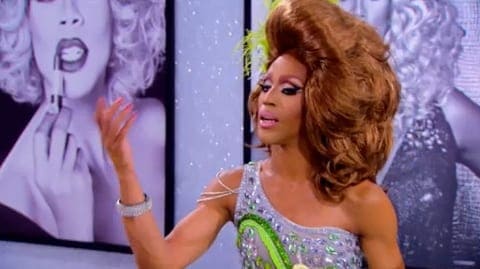 Previous to this last Monday, the only drag queen to have ever openly come out about their HIV-positive status on RuPaul's Drag Race was Ryan Ong Paolo (aka season one's Ongina). But in the most recent season six episode of Untucked, Joshua Jones (or drag performer Trinity K. Bonet) opened up about being HIV-positive.
Despite finishing amongst the highest performers during her first two challenges, Bonet has struggled this season with some lackluster performances and self-doubt, constantly saying that she knows that she won't win and that she's not as good as her competitors. During the Untucked segment of episode five however, Jones got this news off of his chest:
"When I came on this show, I came on this show with a mission because I am HIV-positive. I was diagnosed in August 2012, and I have so much to live for. I have so many goals and aspirations that I want to conquer in my life, so I'm not going to let an obstacle get in the way. And I wanted to come on this show, and I wanted to be that voice for people who are scared to speak out about that."
"I'm hoping that by sharing this that I will be affecting somebody's life. And I'm hoping, by sharing my story, that I will inspire others and that they will take it and maybe apply it to themselves."
"It's not a disease, it's just a situation. I get up in the morning, I take my vitamin E, I take my fish oils and and then I pop my pill and that's the end of that. I have to remember, 'Bitch, you're here for a reason. The main reason why I came here is I'm here for all those people so that you have somebody that you can look up to. There are people out there who love you and who support you. And if you don't have anybody know that I love you and I support you. You have somebody that you can lean on."
Watch the revelatory episode, AFTER THE JUMP...