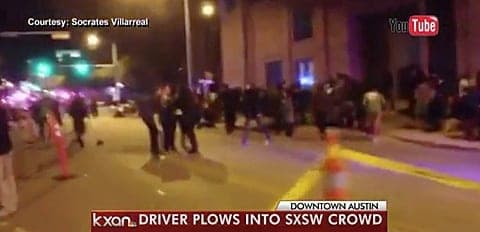 A drunk driver plowed through a huge crowd of people at Austin's SXSW festival at approximately 12:30 pm last night, killing two and injuring at least 23, KXAN reports:
Police say the suspect sped off, after being stopped on suspicion of DWI.

The driver almost hit a police officer with the car while trying to get away, according to police. The suspect then went the wrong way on Ninth Street, plowed through a barricade on Red River Street, and hit the people in the crowd.

The suspect then went through 10th and 11th streets before hitting a van. That's when police say the driver jumped out of the car and began to run, but police managed to use a Taser and arrest the suspect.
Watch KXAN's report, AFTER THE JUMP...
The NYT adds:
The Associated Press reported that the driver was drunk and was evading arrest when his car crashed into people gathered on a busy street, injuring about two dozen of them. The Austin police chief, Art Acevedo, was quoted by The A.P. as saying that two people were killed on a moped that was hit as revelers were leaving a club at around 12:30 a.m. He told The A.P. that the driver had jumped out of his car and had tried to run away after hitting a taxi.

The Austin Police Department wrote on Twitter than an individual had been arrested. "We owe it to the victims and their families to gather the evidence we need to bring them justice," Chief Acevedo was quoted as saying on the police's Twitter account.
Our thoughts go out to the victims of the accident and their loved ones.